Day 1: 4pm Shoving the last bit of gear into my panniers. The Goal is to arrive at Samuel P. Taylor with enough time to setup camp before the sun sets. Totally possible if you haul ass. I arrive about three hours later pulling into the hike in bike in site and it's a full house. I greet my new neighbors.
After a rapid setup I begin to understand that I love everyone in this group. Everyone here is touring. For all of these various groups tomorrow is their last day with their final destination of San Francisco. So many amazing people are here! Two very awesome dudes in their sixties natives of Seattle have spent the last twenty eight days on the the road. They keep the conversation going by engaging everyone of as whole team. There is a second group, an Italian couple again traveling from Seattle to San Francisco. Another couple from Holland have been on the road for close to five months cycling across the US from New York. Such amazing stories of adventure, beauty, mechanical failures, obscene weather conditions, unbelievable roads, and of course the gear. Cyclists can talk about their gear forever. With such a caliber of exciting folk I feel like a tourist on my three day weekender tour. My story is weak in comparison however, I provide tips and "must dos" for San Francisco.
Day 2: 7am There's a reason why the touring circuit travels from north to south. On the Pacific coast, it's the wind. I knew this, but how bad could it be, right?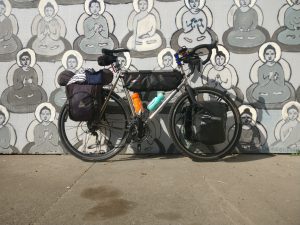 Well today, pretty brutal. The road between Point Reyes Station and the small town of Tomalas is wedged running parallel along Tomalas Bay. This geographic feature creates wind tunnel effect that is amazingly powerful . The only problem is I'm traveling against this fantastic force. The final Drop into Bodega Bay is a three mile decent blasted so hard by the Pacific winds I imagine I'm sky diving.
Day 3 6:30 am up before the sun. I'm nervous about the seventy five miles I must cover today. Luckily, I seem to always over pack, which is good news for the camper who follows. I'm leaving behind 2 cans of beer, 2 slightly used gas canisters, and some random bits of food. Every gram will count today, so shaving off these unneeded bits will buy me some much needed energy.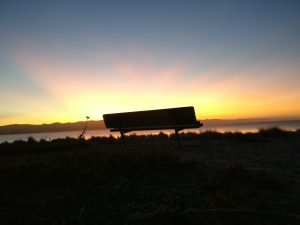 I'm up early enough that I beat everyone to an amazing sunrise. My journey is simple, follow Highway 1 to Stinson Beach, then climb Panoramic Highway up Mount Tamalpias. Once on the road the miles click by with the Pacific winds at my back.
Two hours later I'm at Point Reyes Station and I fuel up at the Bovine Bakery. From here Stinston is a mostly flat with a few rollers about an hour away. Reaching Stinson, my hope is that I can poach the closed Highway One which has been closed since last year's record rainfall. If I can poach this road I will not have to deal with cars and hugging the white line. As I approach the signs that are clearly marked "no cars, no bikes, no one", just around the corner I pass a state trooper whom is protecting this pass from people like me. Unfortunately, playing dumb is a failure , I am turned around, and now head up the grueling climb out Stinson via Panoramic Highway. Reaching Pantoll which is by no means the top of this climb, it is however all I have to accomplish as the rest is all downhill until the base of Golden Gate Bridge.
As I wrap up this journey I recall my first night with all my cycling pals. Thirty days from Seattle to SF totally doable.